Interstate Truck Driver's Guide to Hours of Service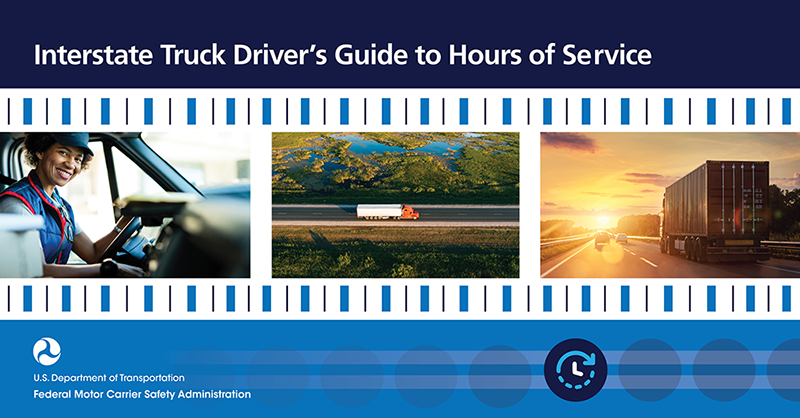 ---
Description/Summary
Summarizes the Federal hours of service (HOS) regulations in Part 395 of Title 49 of the Code of Federal Regulations (CFR) that relate to property-carrying commercial motor vehicles and their drivers, complete with example scenarios and exceptions.
This guidance includes changes to the following four HOS provisions that went into effect on September 29, 2020:
Short-haul exception
Adverse driving conditions exception
30-minute rest break requirements
Sleeper berth provision
Contact Info: FMCSA Information Line, 1-800-832-5660, or hoursofservice@dot.gov.
________________________
Note: This guidance document does not have the force and effect of law and is not meant to bind the public in any way. It is intended only to provide information and clarity regarding existing requirements under the law or agency policies.
Regulatory Topic: Hours of Service Regulations for Property Carriers
Effective Date: Thursday, April 28, 2022
Issued Date: Thursday, April 28, 2022
---
With over 20+ years in the trucking insurance industry Cook Insurance Group combines national reach with local service to address the needs of large fleet, small fleet, single owner and tow trucking operations, and to charter bus lines. We ONLY serve the Trucking industry, providing the best trucking insurance. Let our friendly, bi-lingual staff help you find the right insurance protection at the right cost.
Cook Insurance Group is dedicated to meeting the needs of both small and large fleet trucking companies. Our reps handle every aspect of your program, ensuring you have the best trucking insurance plan for your specific needs. We work closely with you to manage your plan on an ongoing basis.
At Cook Insurance Group, we provide immediate certificate and ID card insurance, including 24/7 certificate availability. We leverage our client portal which allows you to access and issue certificates, check claim status and view policies. Cook Insurance Group is prompt and reliable, including 24-hr claims reporting. (Physical Damage and Motor Truck Cargo). We also provide educational seminars for management and drivers of companies.
At Cook Insurance Group we have licensed risk managers available to assist you with CSA scores and driver training. We provide border risk coverage (NAFTA) and mid-year loss run reviews.
Choose Cook Insurance Group for all of your trucking insurance needs whether you are located in Texas, Arizona or Arkansas.
---
Check out our Recent Industry Updates