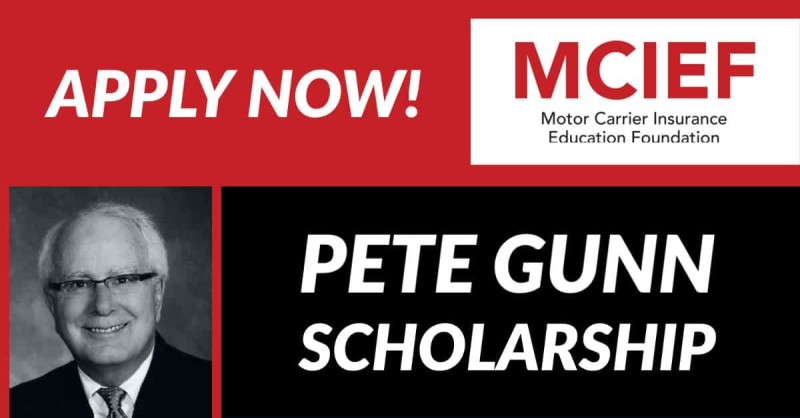 ---
Each year MCIEF selects industry associates to award the Pete Gunn Scholarship. The only requirement is that the associates must be new to transportation insurance and have a desire to become educated.
Pete Gunn cared deeply about the entire transportation industry including truckers and the education process. Pete Gunn focused on how he could positively impact the industry by first becoming the best insurance advisor that he could be. In 1964 he started in the insurance business and quickly became an agency owner with Morgan,Trevathan & Gunn Insurance in Kentucky. Pete Gunn was constantly learning and in only four years he obtained his CPCU in 1968. He later obtained his CIC in 1984 and his TRS in 2013. Pete Gunn was involved in educating hundreds of industry associates through his position as an instructor for the National Alliance.
With the creation and founding of MCIEF, Pete Gunn was always interested in creating programs and teaching. Both his willingness to share his knowledge and professionalism with others will never be forgotten.
The Pete Gunn Scholarship is a yearly reminder of Pete and his legacy. The scholarship is valued at $2,500 and includes:
1 Trucking U Seat
1 Advanced Coverage seat plus 2 nights hotel stay*
1 Advanced Underwriting seat plus 2 nights hotel stay*
1 Annual Conference seat
*hotel stay not applicable for online courses & events
Applications are due back by August 31, 2022. All scholarship awards will be announced at the 2022 Annual Conference, October 2022.
Must be an active MCIEF member to apply for the scholarship.
---
With over 20+ years in the trucking insurance industry Cook Insurance Group combines national reach with local service to address the needs of large fleet, small fleet, single owner and tow trucking operations, and to charter bus lines. We ONLY serve the Trucking industry, providing the best trucking insurance. Let our friendly, bi-lingual staff help you find the right insurance protection at the right cost.
Cook Insurance Group is dedicated to meeting the needs of both small and large fleet trucking companies. Our reps handle every aspect of your program, ensuring you have the best trucking insurance plan for your specific needs. We work closely with you to manage your plan on an ongoing basis.
At Cook Insurance Group, we provide immediate certificate and ID card insurance, including 24/7 certificate availability. We leverage our client portal which allows you to access and issue certificates, check claim status and view policies. Cook Insurance Group is prompt and reliable, including 24-hr claims reporting. (Physical Damage and Motor Truck Cargo). We also provide educational seminars for management and drivers of companies.
At Cook Insurance Group we have licensed risk managers available to assist you with CSA scores and driver training. We provide border risk coverage (NAFTA) and mid-year loss run reviews.
Choose Cook Insurance Group for all of your trucking insurance needs whether you are located in Texas, Arizona or Arkansas.
---
Check out our Recent Industry Updates